We do not leave anything to coincidence
Tested quality - piece by piece

All the steps required to produce high-quality castings and turned parts require a high level of quality in the selection of raw materials, tools, machines and systems. Already from the development phase with sample and pilot series up to series production we work in close contact with our customers in order to fulfill their product requirements as requested.

When it comes to quality, as an ISO 9001:2015 certified company we make no compromises. Therefore, we are optimally positioned for intensive quality assurance both in the casting and in the turning technology and can thus ensure at any time that you always receive the high-quality products from us that you are used to from us.

Our energy and quality policy is available on request.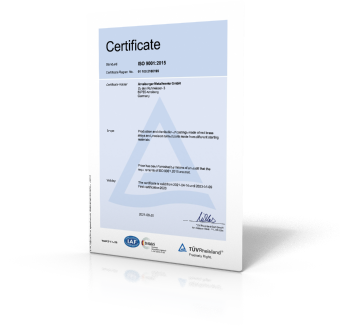 The production-accompanying tests are carried out independently by our qualified employees. Final checks and monitoring of ongoing processes for compliance with customer requirements ensure the high quality of our products. Rely on it!
Here are some pictures for quality assurance - please click on the picture.
Measures for quality assurance in casting technology


spectral analysis
Form materials testing
Visual examination
Casting temperature monitoring
Measures for quality assurance in turning technology

Inspection
First Article Inspection
Production Part Approval PPAP according to IATF 16949
Production-accompanying inspection by factory self-test
Execution of machine and process capability tests
SPC (Statistical Process Steering / Control)
Contour Meter
Wave measuring device for rotationally symmetrical parts
Roughness measuring device, profile projector